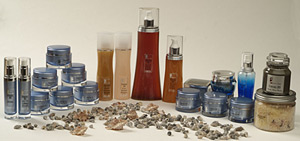 After years of research, and the will to use the Dead Sea treasures effectively in psoriasis treatments, we have found that the combination of selected cold-water seaweeds and the Dead Sea benefits are perfect solution to achieve the goal.
The best active for PSORIASIS

Bio Neo FS (First Stage) and Bio Neo S2 (Second Stage) are two 100 Natural products.

Bio Neo FS and Bio Neo S2 are in fact, the perfect treatment kit for psoriasis.
These two components complement each other.
For satisfactory and successful results, Read the contents of the leaflet carefully before using the products
Bio Neo FS (First Stage) – is a special body scrub from selected oils, minerals, Vitamins and Dead Sea salt and minerals.
Bio Neo FSS (Sensitive) – Developed to be used instead of "FS", In case of very sensitive skin and tendency to have rebound effect, this ointment will do the first peeling by dissolving gently the heavy tissues & scales. There are two types of FSS: Facial and Body, The only difference is the concentration of acids.
Bio Neo S2 (Second Stage) – is a special therapeutic Cream dedicated for psoriasis treatment.
Bio Neo Preventive - This is a special body Cream from selected oils, Dead Sea minerals, and Vitamins - Daily use, keep the psoriasis "sleepy".
Complementary Treatment:

Use Vitamins A3, D3, A, (available in licensed shops, dosage as recommended by the manufacturer on the container).
During treatment, for calming effects, use only natural shampoo, (not containing Sodium or Ammonium Laurethe Sulphate).

Dead Sea Mud

The black mineral mud that is found on the shores of the Dead Sea has been shown to contain healing properties that are ideal for the treatment of a wide variety of joint diseases and skin conditions.

Today Doctors are in complete agreement of its near mystical, curative qualities. Today, countless visitors from all over the world visit the resorts and spas lining the Dead Sea and generously apply black mud to relieve arthritic pain, soothe chronically irritated and dry skin and treat a variety of skin conditions.

The black mud Comprised of layer upon layer of sedimentary clay formed over thousands of years, it contains an extremely high concentration of minerals. This mineral mud has been scientifically proven to be essential in the maintenance of healthy skin.

There are countless scientific researches that approve the healing effects of Dead Sea mud on the skin. BioNeo Dead Sea mud product, revitalize and replenish the skin, restoring its natural flexibility and moisture levels while soothing soreness, redness and cracking.
Dead Sea Salt

BioNeo 100 pure Dead Sea salt is unrefined and perfect for spa treatments and for making therapeutic grade Dead Sea bath salt and scrubs.
The Dead Sea salt is highly concentrated with 26 essential minerals such as magnesium, calcium, sodium, potassium, zinc and other minerals.
These salts nourish, cleanse and refresh your skin.
Bringing the Dead Seas properties right into the bathtub for relaxation and relief,
the widely reputed soothing effects of the Dead Sea can now be enjoyed in the
privacy of ones home. Now every bathtub, hot tub and Jacuzzi can be a private spa,
brimming with the widely reputed therapeutic benefits of the
Dead Seas life giving minerals